SUMMARY OF UKCA APPROVAL CERTIFICATION PROCESS
The UKCA (United Kingdom Conformity Assessment) Mark is the new product marking that will be required on all goods being placed in the market of Great Britain (England, Wales and Scotland) and is not recognized for the EU market; products need a CE marking for sale in the EU.
The UKCA mark became available on 1st January 2021. However, to allow businesses time to adjust, CE-marked goods now in the scope of UKCA can continue to be placed on the GB market until 1st January 2022, as long as they meet EU requirements.
Manufacturers only need to use the new UKCA marking before 1st January 2022 if all of the following apply to the specific product:
It is intended for the market in Great Britain
It is covered by legislation which requires the UKCA marking
It requires mandatory third-party conformity assessment
Conformity assessment has been carried out by a UK conformity assessment body
Regarding Notified Bodies, all UK-based Notified Bodies automatically became UK-Approved Bodies (for the UK market) from 1st January 2021. They will no longer be recognised in the EU.
UKCA TIMELINE
From 1st January 2021: UKCA marking becomes available for businesses to use.
From 1st January 2022: Necessary for the UKCA marking to be used on most goods. Manufacturers can use the mark on a label affixed to the product or on an accompanying document until 1st January 2023.
From 1st January 2023: UKCA marking must, in most cases, be affixed directly to products.
LABELLING REQUIREMENTS
Once proven that a product complied with the requirements of the Directives, the product shall be labelled with the UKCA mark.
In most cases, you must apply the UKCA mark to the product itself or to the packaging.
UKCA mark may be combined with the CE mark if needed for both markets.
You must take into account the following:
If you reduce or enlarge the size of your marking, the letters forming the UKCA marking must be in proportion to the version set out below.
The UKCA marking is at least 5mm in height, unless a different minimum dimension is specified in the relevant legislation.
The UKCA marking is easily visible and legible (from 1 January 2023, it must be permanently attached)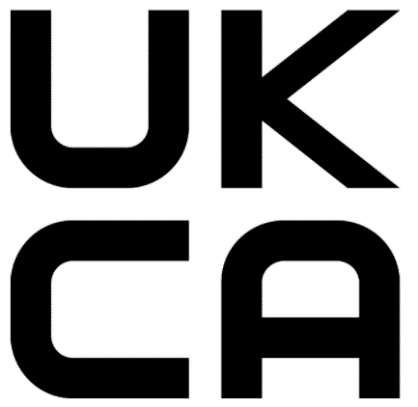 APPLUS+ ASSESMENT BODY SERVICES FOR UKCA
Applus+ offers UKCA certification services for UK market access.