Summary of Singapore IMDA Type Approval certification process
The Infocomm Media Development Authority (IMDA) develops and regulates the converging information, communication and media sectors. IMDA is the national accreditation authority responsible for providing the Singaporean administrative processes, regulations, guidelines, rules and certification schemes necessary to comply with telecommunications standards and specifications.
Telecommunications and radio frequency transmitter products that make use of the radio spectrum or connect to the public network that are intended to be marketed in Singapore are subject to a mandatory approval process issued by the Infocomm Media Development Authority (IMDA).
Depending on the type of equipment that is intended to be certified, one or more of the following three schemes may be applicable:
ESER (Enhanced Simplified Equipment Registration)
SER (Simplified Equipment Registration)
GER (General Equipment Registration)
Every above-stated scheme has a 5-year validity period, according to IMDA Rules.
The process and requirements, the requested technical documentation and the testing requirements, depend on the type of equipment to be introduced in Singapore. In summary, ESER covers complex multi-line equipment and Short Range Devices/Low Power Devices. SER covers cellular Terminals and Broadband Access Equipment. GER includes high potential interference devices like Base Stations and Land Mobile devices.
IMDA Product marking
All Local Suppliers that have successfully registered the ESER Equipment on the Online Platform must comply with the labelling requirements specified in the IMDA Requirements for Telecommunications Equipment Labels and Advertisement Publication.
IMDA's Compliance Label indicates that the Equipment complies with the standards and specifications published by IMDA, is compatible with the public telecommunications network in Singapore, and does not cause radio frequency interference with other authorised radio-communication networks.
The following label must be affixed to all registered equipment or to the equipment's instruction manual or packaging before the equipment is marketed and commercialized: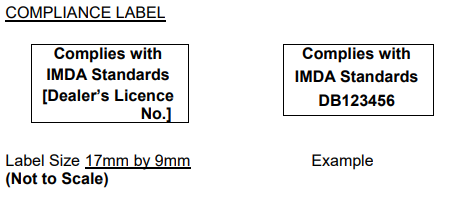 Since 4 April 2012, IMDA has approved the electronic compliance labelling of registered telecom equipment by Suppliers. Said compliance label can be displayed on the equipment's built-in display screen, or in the softcopy of the equipment's instruction manual. The Supplier must make sure that the equipment packaging contains the necessary information for consumers to find the e-label. An instruction guide or leaflet should be provided for this purpose.