Applus+ Laboratories tests A350 XWB Cargo Door components for Korean Air
Client
Korean Air Aerospace Division (KAL-ASD) provides, among others, design and manufacturing services for
aerospace and defense industry
. The company has been involved in several commercial aircraft development programs for Boeing (737, 747, 777, 787) and Airbus (A320, A330, A350).
Challenge
Korean Air was contracted to develop the Cargo Doors of the new A350 XWB in their facilities in Busan (South Korea). In order to ensure the challenging time and quality requirements of the Airbus A350 XWB program, Korean Air agreed to rely on Applus+ Laboratories experience and qualification to manage the mechanical test campaigns.
Solution
Thanks to Applus+ Laboratories expertise in aerospace structures testing programs, we were able to offer, define and perform 5 testing campaigns in less than 4 months, ensuring high quality performance and results, and overcoming project management challenges due to distance and cultural differences.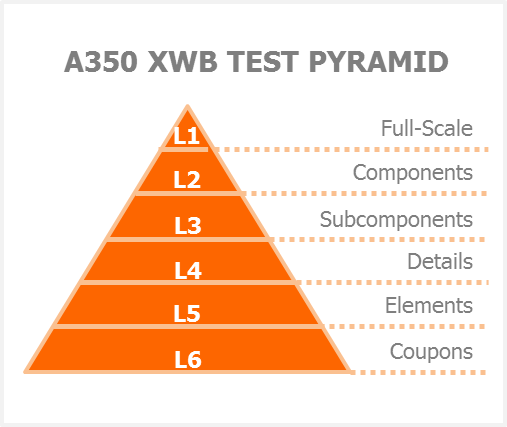 The test campaigns consisted of:
Static structural tests
(level 5 of the A350 XWB test pyramid) on critical elements of the cargo doors to confirm static strength capability.
Coupons tests
(level 6 of the A350 XWB test pyramid) to validate the baseline static strength and the residual strength after repeated loading of representative composite laminates and structural features.
Applus+ Laboratories solution included:
Consulting service to define the test plan and comply with Airbus structure test process.
Developing and manufacturing of the necessary test tooling to introduce the loads according to requested boundary conditions
Trimming and preparation of test specimens when needed to meet tolerances required in Airbus standards
Run testing in parallel in order to achieve requested deadlines
Benefits for the client:
Robust organization and proven track record in project management of international testing programs
Define the management and documentation of the test pyramid and the end-to-end process, starting with reception of the test needs and ending with the release of the report
High reactivity to perform several test campaigns being TCQ (time/cost/quality) accountable.
Applus+ Laboratories Aerospace structures & materials testing facilities
Structural Testing Laboratories
Composite Materials Testing Laboratories
Metallic materials testing laboratory

Composite Materials Testing Laboratories
CFRP Accredited Sample Manufacturing

Composite Materials Testing Laboratories
Metallic materials testing laboratory

Composite Materials Testing Laboratories
Metallic materials testing laboratory

NDT on composite components compuestos

NDT on composite components compuestos

NDT on composite components compuestos
Recognized test partner
ISO 17025 Accreditation
ISO 9100 Accreditation
Nadcap Accreditation (Materials Testing Laboratory)
Nadcap Accreditation (Non Metallic Materials Testing)
Nadcap Accreditation (NDT)
Airbus approval for coupons, elements & structures testing , NDT, test jigs & equipment
Boeing approval for D6 materials testing, structures testing & test tooling
Rolls Royce approval for structural testing
GKN, Honda Aircraft, Lockheed Martin, approval for NDT
Other customer Approvals (MBD, Airbus Helicopters, Safran Snecma)