The development of medium- and large-scale sustainable manufacturing-process platforms for clinically compliant solid core nanopharmaceuticals.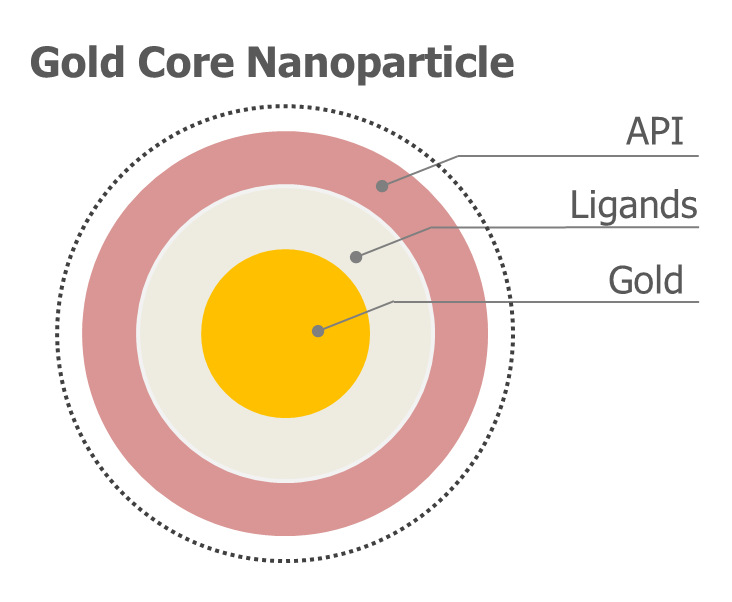 The primary aim of the Nanofacturing project is to improve manufacturing processes of gold core nanoparticles for therapeutic use in the human body.
Research in this field has focused over recent years on producing nanoparticles that are biologically compatible, excretable and sufficiently small that, once administered to humans, they can be subject to controlled release in the target site.
The Nanofacturing project involves the scale up manufacture of pharmaceutical nanoparticles intended for use in a wide variety of therapeutic applications including a novel form of oral insulin delivery for the treatment of diabetes: The insulin-releasing nanoparticles will be administered via a dissolvable strip placed against the patients' cheek.
The insulin nanoparticle is made up of a gold nucleus coated by ligands that serve to reversibly bind, the active pharmaceutical ingredient – insulin – to the surface of the nanoparticle.
The nanoparticle has already been developed at laboratory scale and is currently undergoing clinical testing. A range of nanoparticles using similar binding technology is being developed for the treatment of other conditions, such as rare cancers.
A
Horizon 2020 European project
The 4-year Nanofacturing project was selected and granted European Union funding following the 2014 call for the Horizon 2020 Programme for Research and Innovation (grant agreement no. 646364). The Nanofacturing consortium is led by Midatech Pharma España S.L.U. Applus+ Laboratories is one of eight consortium partners involved in the project.
The project's primary objective is to develop medium- and large-scale manufacturing processes that enable the commercial viability of Good Manufacturing Practice (GMP)-compliant gold core nanopharmaceuticals.
Applus+ researchers will focus their efforts on developing a synthetic route for the manufacture of the ligands compatible with industrial scale manufacturing processes. Applus+ offers a high level of expertise not only in the development of laboratory-scale processes but also in their transfer, industrial scale-up and optimisation, using its Fine Chemicals pilot plant which is also fully GMP compliant.