Our US-based materials testing laboratories, Applus+ DatapointLabs, helps companies build enduring data collections that accurately represent the materials used in their products.
Gain from our deep expertise and experience in materials for simulation and comprehensive knowledge of materials: plastics, metals, rubber, foam, composites, adhesives.
Get results fast: standard turnaround in 5 business days for most tests with 48-hour priority delivery available.
We have streamlined the art of material modeling for CAE into an efficient process that consistently delivers accurate results.
Material properties data, CAE Material files, and test reports are delivered digitally to your Matereality® database, making the transition from materials testing to product design easy and error-free.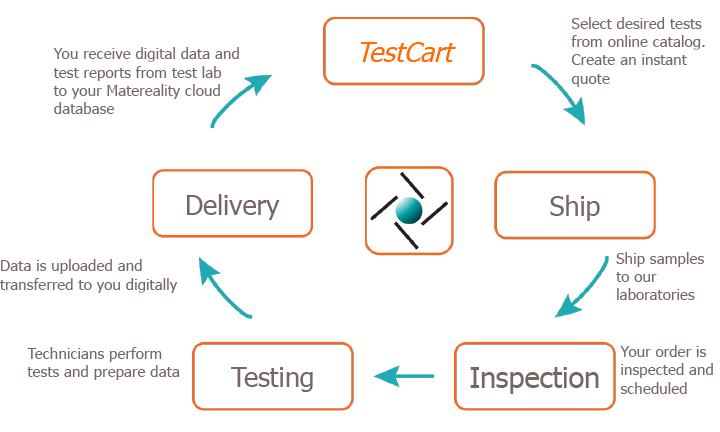 TestCart - PLACE ORDERS ONLINE
Use our extensive online test catalog to obtain an instant quotation for individual tests, TestPaks, or CAETestBench validations. Confirm your order and ship your materials immediately. Our seasoned technical staff are experts in the physics of materials, measurement, and material parameter conversion for simulation.
TestCart allows you to obtain instant quotations, place orders, track the progress of your jobs, and access test results. Your online order details are transferred directly to our technicians after lab management review. The system keeps track of frequently placed orders and is integrated into the Matereality Cloud, so you can access your test reports and digital data in a single environment.
Get quotes instantly.
Track testing progress.
Testing of adhesives, ceramics, composites, foams, food, metals, papers, plastics, and rubbers.
Testing for material suppliers, consumer products, automotive, electronics, biomedical, aerospace and defense, energy, appliances, and food.
Online Materials Testing Catalog
Scope of Testing in our On-line Catalog
Mechanical Properties
Stress-strain curves — tensile, compressive, flexural, volumetric, shear (elevated and sub-ambient temperatures)
Modulus — tensile, compressive, shear, flexural, bulk
Poisson's ratio — tensile or compressive
High strain rate properties — up to 1000/s
Hyperelastic and hyperfoam properties
Creep and creep rupture — tensile, compressive, flexural (elevated and humidified environments)
Fatigue — tensile, flexural
Impact — Izod, Charpy, Dynatup
Volumetric properties — compressibility, bulk modulus
Viscoelastic properties — torsion, tensile, compressive, flexural
Stress relaxation — torsion, tensile, compressive
Friction, wear and hardness
Environmental exposure — heat and chemical aging
Forming limit diagrams
Thermal Properties
Thermal expansion — linear and volumetric
Thermal conductivity
Thermal diffusivity
Thermogravimetric analysis
Specific heat
Transitions — melting, solidification, crystallization kinetics
Heat deflection temperature
PVT – isothermal and isobaric methods, very high pressure PVT
Rheological Properties
Capillary viscosity, juncture losses, slip, die swell
Viscoelastic properties, dynamic and steady shear
Rheotens melt tension measurements
Extensional viscosity — lubricated squeezing
Melt flow rate