Summary of Japan Radio Law Type Approval certification process
Japan Radio Law (Law No. 131 of May 2, 1950) typically addresses and covers products with radio interfaces. There are three different types of products that fall into Radio Law Approval, each one depending on the product intended to be marketed in Japan:
Specified Radio Equipment (SRE):

Special Specified Radio Equipment (SSRE)

High-Frequency Device
Extremely Low-Power Device (ELP)
The most common category is the Specified Radio Equipment where Certification is issued by Registered Certification Bodies (RCB) recognized by MIC. Japanese Certification Bodies can choose whether or not to accept test reports issued by other laboratories if they comply with Japanese mandatory standards. The complete list of products categorized as SRE can be found under Article 38-2-2 of the Radio Law.
Two Samples are typically requested by Test Labs/RCBs to address MIC requirements. A detailed technical file must be provided to the RCBs to address the Certification. The technical file must include specific MIC requirements as Quality Production Statements, Construct Design Forms, Protection Statements and generic technical documentation i.e Block diagrams, schematics, dimension diagrams, photos, etc.
A Local Representative will not be required and the lead time to obtain the MIC Approval is typically between 4 and 6 weeks. The validity of the Certificate is indefinite.
Summary of Japan Telecom Business Law Type Approval certification process
Telecom Business Law (Law No. 86 of December 25, 1984) addresses all types of equipment which connects to public networks. Therefore, Telecommunication devices that connect to the Japanese Public Network must apply for Business Law approval and comply with Article 9 of the Telecommunications Business Law issued by MIC.
To get the approval certificate, an MIC Registered Certification Body (RCB) will determine whether or not each terminal device complies with MIC's Business Law technical standards.
Once the examination is done and the product has been approved, RCB will issue a certificate for each Terminal Device. After the certification has been issued, terminal equipment can be marked complying with MIC's standards for equipment marking.
The technical file to address Telecom Business Law is equivalent to the one mentioned in the Radio Law.
Radio and Telecom Business Law Type Approval Step by Step Process
The following steps must be performed in order to obtain the Radio Law Approval

Product marking
After RCB grants the Certificate, the product must be marked with MIC's official label, which will contain the type of equipment as well as a specific identification number for the equipment.
Labels for Only Radio Law and Telecom Business Law respectively: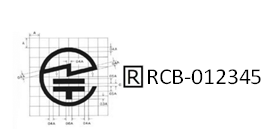 Label for combined equipment (Radio Law + Business Law):

Label for High Frequency device: