What is UAM?
---
UAM falls under the wider Advanced Air Mobility (AAM) concept introduced by the NASA, but only focuses on transportation systems for passengers and cargo, in urban and suburban areas. This type of electric aircraft uses multiple electric-powered rotors or fans for lift and propulsion, and fly-by-wire systems for control. It performs taking off and landing vertically and can be remotely piloted or include a pilot on board.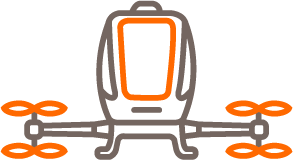 UAM Market growth and potential opportunities:
---
Driven by current technological breakthroughs, the spread of UAM use for civil and commercial purposes, and considerable investments from emerging nations, the UAM market is projected to escalate quickly.
According to Berkley's Transportation and Sustainability Research Center, urban and suburban areas could integrate UAM use due to the following current and potential opportunities:
UAS for delivering goods: Several industries are considering current UAS applications for transporting consumer goods, medical and emergency supplies, or mapping and surveillance operations. 
Emergency management: In hopes of optimizing response times, easing up traffic congestion, and even reducing pollution, UAM offers countless benefits to aid emergency responders. This includes fire rescue operations, medical supply delivery and assistance in critical health conditions that could require an air ambulance.
Passenger Mobility: Moving into the unprecedented future, autonomous helicopters, rotorcraft, and eVTOL aircraft could also be used for passenger operations. Imagine "air shuttle services" regularly scheduled to conduct specific air routes. 
Air Taxi Services: The farthest UAM evolution phase is building point-to-point and on-demand "air taxi services". However, this faraway future depends on our ability to build feasible infrastructure and overcome capacity limitations due to weather, and other impacts associated with scaled and dispersed operations. 
Yes, we're optimistic, but most importantly- prepare to cover all bases! This brings us to next points of focus: what should we consider to consolidate a robust preparedness plan and meet high safety standards?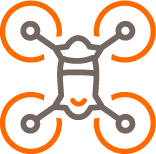 Future challenges in the evolution of UAM 
---
As UAM technology quickly emerges, it's never been more important to identify some potential challenges that could arise due to the development of:
Autonomous and complex software
Electric Propulsion and Energy Storage
Unmanned and Optionally Piloted Aircraft
Low ratio of Aircraft to Operators 
As these developments take their course, implementing the right infrastructure to support UAM services will be key. For example, Vertihubs and Vertiports (vertical landing pads) to accommodate aircraft in lower-density residential communities. In addition to potential technological improvements like dynamic pricing, improved charging infrastructure and battery capacity.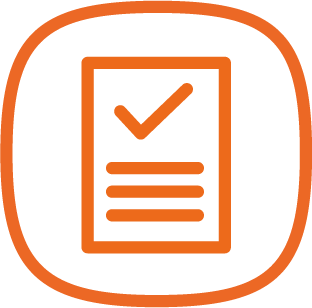 Safety and Regulatory Environment 
---
Because the UAM industry has just taken full course in the discovery of its utmost potential, these are some of the regulatory aspects that will have to be continuously taken care of to manage and endorse the safety of all stakeholders:
Management in the different stages of aircraft manufacturing, operation and maintenance 
Certification for all involved personnel, including pilots, aircrew and maintenance staff. 
Aviation facility certifications.
Establishing a series of management facilities for air navigation, airspace, and air traffic, to develop air traffic rules and assign airspace use.
Safety will only be a reality with the collaboration of local governments. These entities should consolidate a strong policy frame and regulatory environment for use and zoning, building, fire codes and law enforcement. 
Also, all safety standards and regulations should work to assemble a preparedness plan for managing the following: flight outside approved airspace, unsafe proximity to people and/or property, critical system failure, flight control system failure and cybersecurity risks. Potential hazards such as, weather, human factors (i.e., loss of situational awareness) and passenger interference, should also be considered.  
Applus+ Laboratories, ensuring high safety standards for eVTOLs
---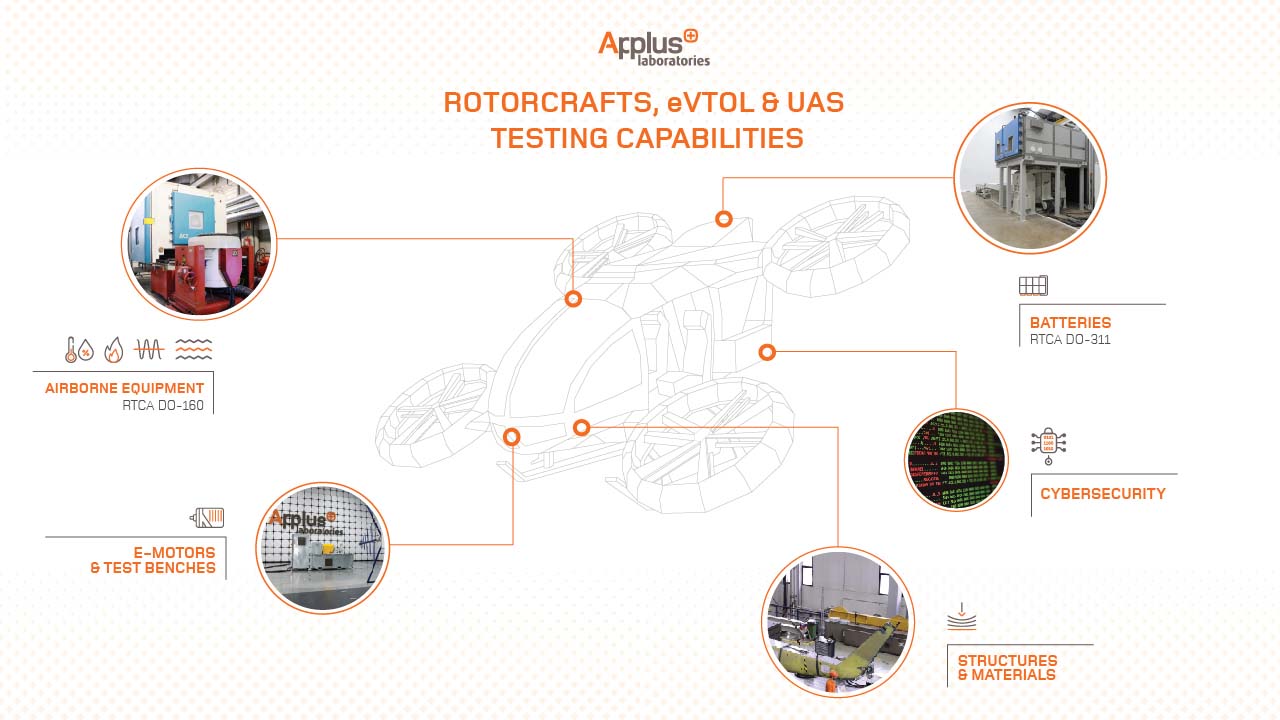 At the moment, each eVTOL OEM must be in agreement with a regulating body, such as the EASA for Europe, the American FAA, the English CAA, and the Chinese CAAC, regarding specific product requirements. The next step is defining and performing tests to prove their compliance. 
Applus+ Laboratories testing campaigns can ensure both the effectiveness and efficiency of eVTOL use for inter and intra-city transportation. Which, as we have seen, requires full commitment to meet rigorous standards. Our full-scale facilities, expertise, and equipment can aid eVTOL operators in:
Test program definition
Indoor Validation Testing 
Structural testing: from component to full-scale
Material characterization and quality assurance
Electric propulsion testing
Battery testing
Environmental and comfort testing such as: EMC and electrical testing, High Voltage component testing, and fire testing.
Cybersecurity evaluations
Test systems, test benches & test rigs

For further insight and precision into what we do, please stop by our official Drones & UAM website or get in touch with one of our industry experts.