When a fire first breaks out in a building of this type, the particular characteristics of the façade (surface quality, cavities, etc.) play a decisive role. A fire inside a building can leap outside through gaps or windows and then spread around the whole façade. Depending on the fire-resistance capacity of each element of the façade and the nature of any gaps found within it, the fire may proceed to re-enter the building higher up and, as such, spread through the entire building.
The further the fire spreads around the building, the greater the risk of the building's load-bearing structure being compromised. It also goes without saying that smoke and flames inside a building endanger the building's occupants and can jeopardise evacuation and rescue efforts.
European regulations: a classification system that overlooks fire-spread characteristics
This problem is take into account in current European standards but their remit is, to date, limited. Current testing requirements only consider the following aspects of a façade's fire performance: integrity (E), insulation (I), load-bearing capacity (R) and reaction to fire (Euroclass). They do not look at fire spread.
The ETAG guidelines and European standards for CE marking set out the required testing and control methods to ensure a minimum quality for cladding products. With regards to fire safety, European standards only set a minimum value for reaction-to-fire characteristics (Euroclass A2s1d0). As far as fire resistance is concerned, this is determined by national legislation in each EU member state. Since there is no common regulation, European testing standards do not provide a specific resistance-to-fire procedure for the evaluation of façade cladding or other finishes.
For the time being, and in the absence of a European standard, the most widely accepted testing standards include BS 8414 (large-scale test) and DIN 4102-20 (medium-scale test). Since BS 8414 sets out test methods but not classification criteria, the UK has also introduced BR 135, which enables the classification of systems tested according to the standards in question.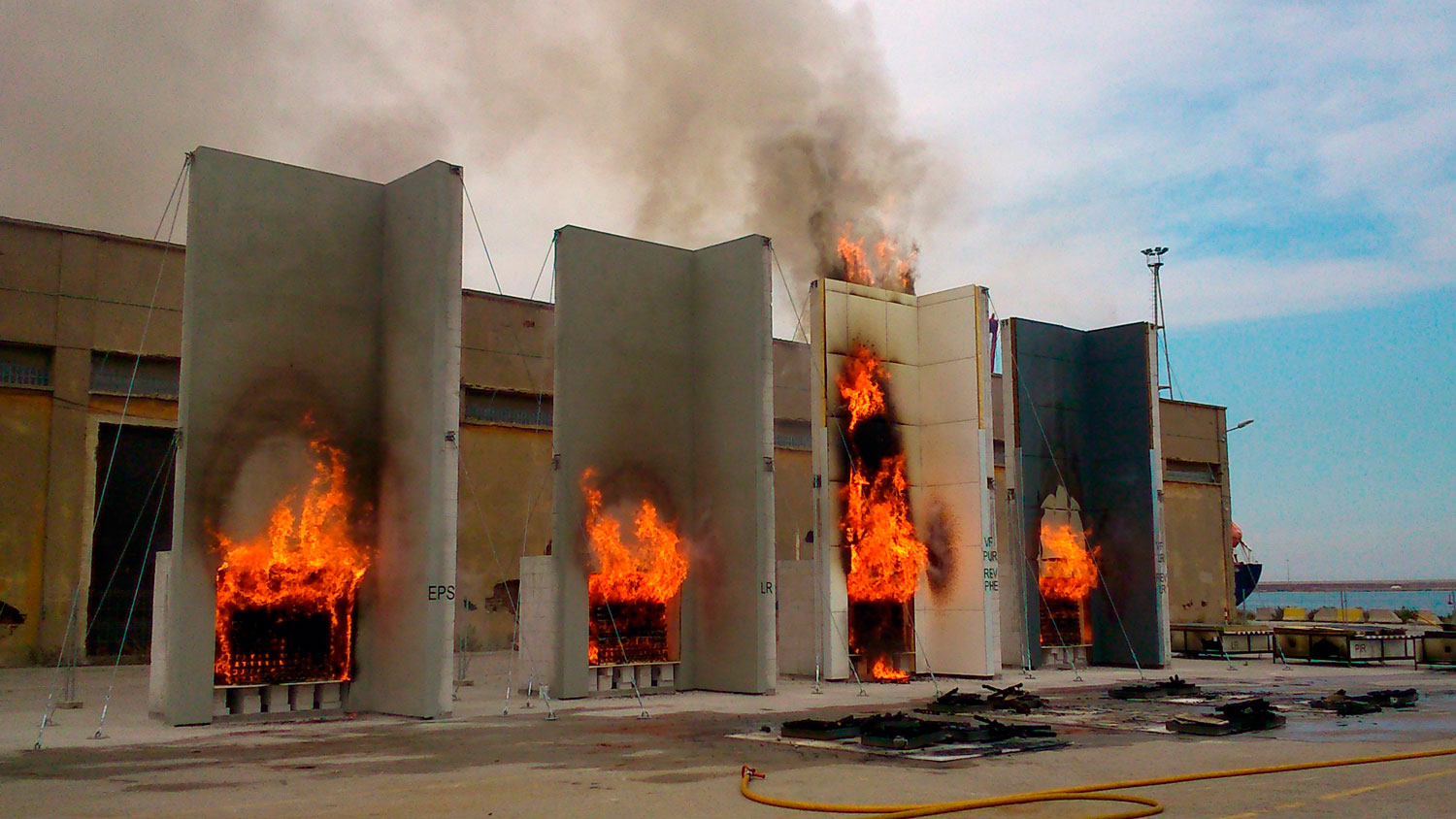 Towards a new testing standard
The new European standard (EN) is currently in its draft stage. This standard will enable the assessment of a façade's fire-spread capacity and be used to check the fire performance of applied materials, paints, curtain walls, finishes, ventilated façades, etc.
According to current legislation, if the façade of a building comprises a wall with overlaid elements, the wall itself must be fire resistant and tested according to the standards that apply to curtain walls or walls. Overlaid elements, such as cladding, must be tested separately to assess their reaction to fire. Under the new legislation, it will also be mandatory to carry out fire-spread tests on these overlaid elements with a view to improving safety.
The new European standard must include test and classification methods in order to be able to be used for the evaluation of construction products as well as incorporated into the appropriate CE marking and ETAG standards.
Applus+ recommendations
Applus+ recommends that in order to have greater control over fires on façades, the BS 8414 parts 1 and 2 tests are followed until the new European standard is approved. The small scale scenario represented by the Euroclass is clearly not sufficient to test how a façade behaves under real fire conditions. For this reason, it's important to complement an evaluation of a façade's response to a fire scenario with a large scale fire evaluation, under BS 8414. This should be done also meeting the criteria for BR 135, which is the regulation which controls the behaviour of thermal insulation for walls in fire conditions in multiple-storey buildings.