Electro-mechanical calibration consists of placing two blocks of equal length on a block comparator with a double inductive probe, which checks that both pieces have the same thickness. Traditionally, this process has been carried out manually, i.e. an operator changes the parts each time the stylus completes the calibration of a block.
Applus+ Laboratories metrology team carries out the dimensional calibration of standard blocks between 0.5 mm and 100 mm according to the UNE-EN ISO 3650 standard, using an automatic calibration device for longitudinal standard blocks that has been reconditioned and improved.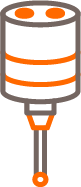 Improvements in the automatic calibration device for Longitudinal Standard Blocks
---
Applus+ Laboratories Engineering Department has reconditioned the hardware of the device used for the calibration of longitudinal standard blocks. Specifically, it has replaced the old discrete analogue electronics and the old, more unstable and noisier (both sonically and electrically) AC motors with new DC stepper motors. Consequently, the entire control system (cards) and command system (PLC) has been replaced.
The system has been improved by installing, as an appendix, displacement meters that control the positioning of all the existing movements.
The project ends with the development of new software to interpret the control instructions for these movements, automatically capture the data obtained during the calibration process and calculate the final result based on the available data.

Benefits of automation
---
The digitisation of this entire process is beneficial as it significantly reduces the operational risk of testing. It no longer requires operator involvement to place each of the pairs of blocks to be compared. In addition, resting times can be avoided, and it is not necessary to manipulate the template that positions each of the blocks to be calibrated at the different measuring points.
By dispensing with the need for an operator to manually execute the movements of the comparator, the potential influence of the comparator on the environmental conditions and the temperature of the standards is also eliminated, resulting in an improvement in the quality of the results. Even so, the final comparison tests between the manual and automatic methods did not show any significant differences between the two methods.
In short, automation makes it possible to increase the potential of the calibration process of length standard blocks, achieving the same conditions of quality and uncertainty as the manual process. It also allows the operator's time in front of the calibration equipment to be reduced almost completely, as only the blocks need to be properly placed in the equipment and the system started from the software interface.