Start date: 2021
End date: 2024
Participants: Leader: Aciturri Engineering SL; Consortium members: Applus+ Laboratories (LGAI Technological Center SA) and Sinergia Racing Group SL.
Funding: This project is funded by the CDTI and supported by the Spanish Ministry of Science and Innovation (Ministerio de Ciencia e Innovación).
Context:
The decarbonization of the aeronautical sector will lead to improvements in the motorization of aircraft, but it will require a joint effort from all industry players. This includes those involved in the manufacture of aerostructures, which will need to be lighter and more complex, yet manufactured quicker and at much higher rates than they are currently.
The next challenges for the development of aerostructures lie in the application of composite materials to smaller, single-aisle aircraft, as well as in the development of the UAM (Urban Air Mobility) sector. These types of aircraft require much higher manufacturing rates than those used to date, particularly in UAM, as the aim is to manufacture at speeds similar to those obtained in the automotive industry, but with the highest aeronautical quality.
Aciturri Engineering SL, Sinergia Racing Group SL, and Applus+ Laboratories are joining forces to meet these challenges by combining new concepts of structure integration (Aciturri) with the A+ Glide Forming process (Applus+ Laboratories), and the manufacture of more efficient and higher quality tooling (SRG).
Objectives:
The overall objectives of the Project MULTIGLIDE are as follows:
1
---
To develop an integrated solution for a multi-stringer torsion box. This would be cured in a single cycle without bolted or riveted joints, therefore reducing the number of parts to be integrated and the overall weight of the structure. For this purpose, the A+ Glide Forming process (integrating several parts into one and forming them in one step) and high-performance curing tools will be investigated further.

2
---
To extend the A+ Glide Forming process to even more complex geometries, with even greater curvature than those used to date. This will allow extending the application envelope of the technology to more curved parts in conventional aerostructure architecture (e.g. fuselage frames), as well as for new part designs for future single-aisle and UAM aircraft. A phased investigation will be carried out, starting with the study of geometries that present a high curvature in the same plane, and then extending this investigation to geometries that have a section that varies significantly along their length as well as presenting a high curvature.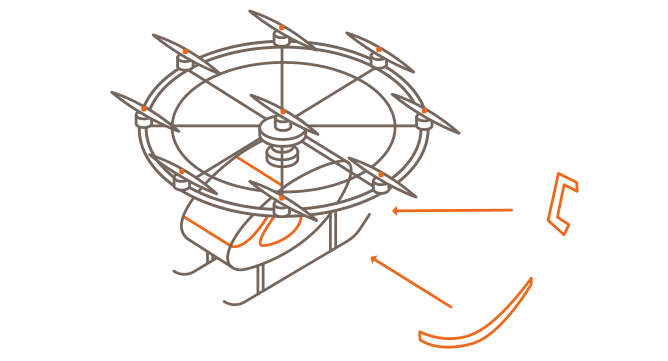 The MULTIGLIDE project will train the participating companies in these types of solutions, and at the same time, allow them to be more competitive. It will also broaden their exposure from a commercial and diversification point of view, allowing them to compete in new contracts for future aircraft that respond to these geometries.