Applus+ Laboratories is proud to announce that we have joined the PSA Certified scheme, as an evaluation laboratory. The PSA Certified initiative aims to standardize security across the IoT industry, by establishing a common security assurance framework with a flexible and trustworthy certification program.
The PSA Certified security evaluation scheme has a three-tiered model of assurance that enables device manufacturers to choose the appropriate level of security assurance and robustness for their product (and chip components), according to their market needs.
The different levels of assurance are aimed at different stakeholders of the IoT ecosystems, such as silicon vendors, software developers, IP providers, and device manufacturers, in order to provide trust amongst the ecosystem and the end-user.
PSA Certified Level 1 is for device, software and chip vendors who want to demonstrate that good security principles have been applied
PSA Certified Level 2 is for chip vendors who want to use independent testing to show that their PSA-RoT security component can protect against software attacks
PSA Certified Level 3 is for chip vendors who want to provide evidence that the PSA-RoT protects against substantial hardware and software attacks.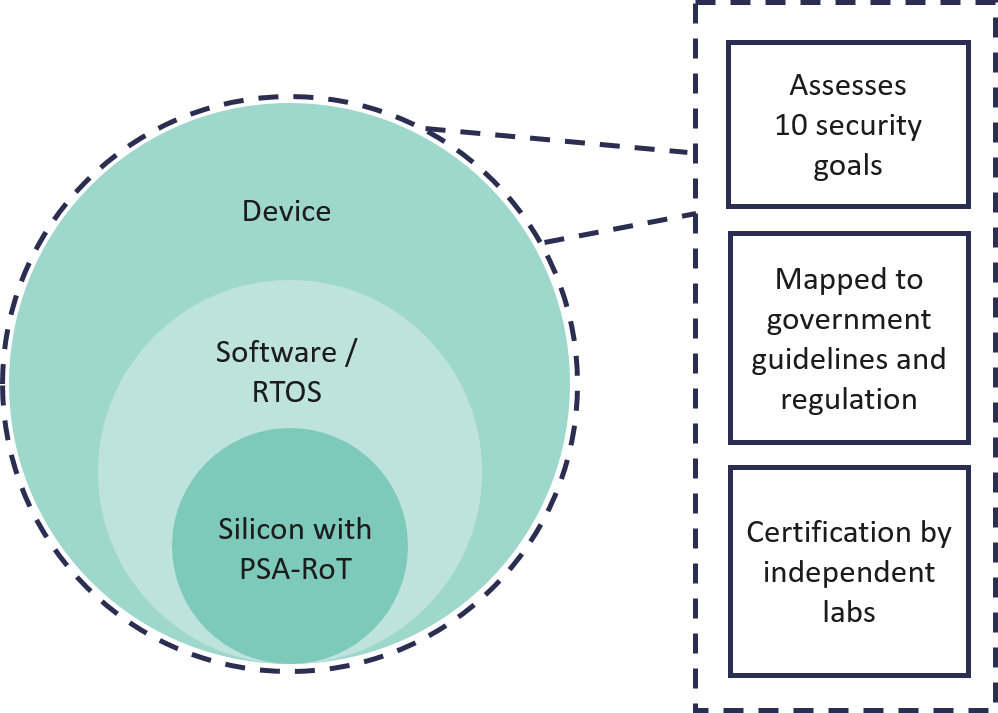 The laboratory's role in providing a Root of Trust
PSA Certified independent laboratories, such as Applus+, can support evaluating solutions that aim to provide Root of Trust for confidentiality and integrity to the entire value chain. PSA Root of Trust – which has the option to follow SESIP methodology – help chip vendors to differentiate their products, providing assurances to device manufacturers on chip security functions and their ability to protect the system from common IoT threats.
As a member of the PSA Certified scheme, Applus+ Laboratories will join the PSA JSA working group, in charge of maintaining and improving PSA specifications.
"As a laboratory, we support the PSA Certified initiative, as it brings to the table two key elements for a certification to flourish: an agile and cost-effective methodology that adapts to the client's time-to-market needs, and commitment to avoid fragmentation, which only brings operational complexities to clients." highlighted Josepmaria Roca, IT Area Director at Applus+ Laboratories
"As the IoT continues to expand, security at the chip level has never been more crucial. We welcome Applus to the PSA Certified ecosystem to help develop the PSA Certified scheme documents and extend the choice of respected evaluation labs for developers looking to certify their chips, system software or devices," explained Rob Coombs, director, Architecture and Technology Group at Arm (a PSA Certified co-founding member).